Sunday Roast meal-kit
If you want to get the family together and really enjoy a Sunday with minimal effort then this box is for you! Put your feet up, pour a glass of wine and let Sunday's be taken care of by Indulge!
We absolutely love Indulge! It's becoming a bit of a weekly occurrence in our household and it never disappoints! So easy to assemble and always delivers on taste and quality, plus theres no washing up, win win!
Indulge's traditional Sunday roast has all the trimmings you want, but can never be bothered to make yourself! The main event is either a Norfolk beef rump cap or a vegetarian nut roast – this is served with super crispy roast potatoes, braised red cabbage, glazed carrots, seasonal greens, Yorkshire puddings, and of course the most important… cauliflower cheese! Don't worry we haven't forgotten the gravy – Chef Andy's secret recipe is sensational!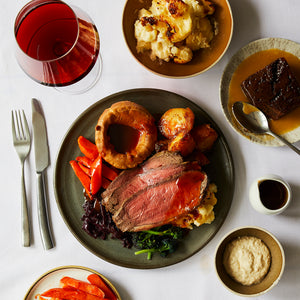 IMPORTANT DETAILS
The meat is pre-cooked in a waterbath so just needs sealing in a pan and then reheating in the oven
Potatoes come part-cooked and fluffed up so just need finishing in the oven
All other sides just need reheating
Delivery is on Saturdays can be eaten for up to 3 days (think outside the box – roasts aren't only for Sundays!)