CHRISTMAS DAY WITH INDULGE
Hosting over the festive period can sometimes feel quite daunting, especially if you have committed to catering the full Christmas Day! Indulge's Christmas Day Meal-kit is the perfect solution for foodies who want fine dining at home without spending hours prepping ingredients! The 5 course extravaganza has some extra special elements as well as your traditional Christmas dinner with all the trimmings!
Can't recommend Indulge enough! We had such a fun night plating everything up, and all the prep was so so straightforward with lots of time to put feet up and chat. The food was delicious, really high quality and obviously so much care put in to preparing and packaging it all up. We'll definitely order again.
Christmas Day with Indulge is a really special meal with minimal work for you to do, so you can pour yourself a cocktail and enjoy your day with family or friends.
The meal-kit kicks off cocktails and canapes – the perfect way to start your day of fine dining. Indulge's mince pie infused gin and ginger cocktail is served up with brie, cranberry and beetroot canapes.
On the meat menus there is a seriously tasty smoked salmon & crab starter and on the vegetarian menu a cheese and onion salt-baked celeriac dish. Choose either a stuffed turkey breast wrapped in pancetta, beef wellington or vegetarian wellington- all to be served with ALL of the trimmings. By ALL we really do mean ALL – perfectly crispy roast potatoes, decadent broccoli & cauliflower cheese, festive braised red cabbage, homemade Yorkshire puddings, glazed carrots, pigs-in-blankets, Christmas stuffing, Brussel sprouts with chestnuts and pancetta – all topped off with some warming delicious gravy!
The meal doesn't stop there a chocolate mousse with gingerbread, clementine and vanilla is served for dessert. If you still have room the meal is finished with some mulled wine macaroons – although they might be best served with a cup of tea on boxing day!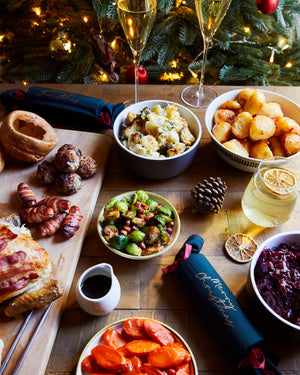 IMPORTANT INFO
Delivery will be made on Saturday 23rd December.
The stuffed turkey breast will come ready to go you just need to seal it off in a pan and re-heat it in the oven.
The wellingtons come wrapped and ready to go in the oven.
The roast potatoes will be part-cooked and fluffed up just to be finished in the oven.
All other trimmings will just require heating up