New Years Eve delivered to your door
I think its fair to say that when it comes to New Years Eve – staying in is most definitely the new going out! No need to stress about getting a reservation somewhere or making sure you pre-book a taxi home. Just Indulge in a slap-up meal in the comfort of your own home and bring in 2024 in style!
Our NYE meal was amazing. Every single thing we ate was
delicious. We've eaten at some quality restaurants and this
at home meal kit made us feel like we were sitting in one of
them. Our NYE at home was made that bit more special.
If crowded parties and late-night debauchery on New Years Eve is a thing of the past for you and your vibe these days is a New Year full of gourmet food then Indulge has the answer. Our New Year menu is a whopping 7-course tasting menu – the perfect special occasion meal!
Get out your best crockery, lay the table, light the candles, pour yourself a glass of wine and then enjoy our most extravagant meal-kit yet. No course will take you longer than 15 minutes and the menu is designed to enjoy each course as you go – making a fun interactive evening out of it.
The 7 course extravaganza consists of
Canapé - Beetroot, goats' cheese & tarragon
Homemade bread & butter
Starter - Chicken, butternut squash, mushroom & smoked bacon or Jerusalem artichoke, bitter leaves, walnut & smoked butter
Main course - Lamb rump, parsnip, celeriac & kale or Wild mushroom, caramelised onion, spinach & ricotta
Pre-dessert - Clementine, lime & ginger
Dessert - Chocolate, pear, hazelnut & cinnamon
Petit fours - Blackcurrant macarons
The meal works well for couples but also for dinner parties – everything comes cooked, it is just a case of heating and plating. Don't worry we give you photos of how it should all look too – so it really is fool-proof!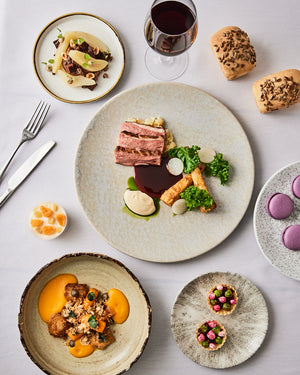 Important info
The meals are designed to be heated, plated and enjoyed one course at a time. No course takes longer than 15 minutes to put together.
Each person is £75 – please order one menu per person.
Delivery will be on Saturday 30th December and can be eaten for up to 3 days after delivery.
We will be taking orders up until 9pm on Monday 18th December.
Option to add a cheese course and wine to any order before checkout.
We can cater to any dietary requirements, if your requirements are complex please drop an email to andy@indulgedining.co.uk however if it is a simple allergy or intolerance please just specify in the dietary requirements box at checkout.