at home Meal-kits
Your Indulge fine dining three course meal comes prepared and cooked, all you need to do is follow th e simple step-by-step instructions to heat up and plate up. We even give you photos of how the dishes should look so you can channel your inner Masterchef and learn to plate up like the professionals.
The Indulge meal-kits have a level of detail like no other – we only use premium produce sourced from the same suppliers Andy used in Michelin star restaurants. The dishes feature purees and gels and we even send you edible flowers to finish the presentation of your dishes like they would in a restaurant. The perfect fine dining experience from the comfort of your home – spend less time reading recipes and cooking over a hot stove and more time with your loved ones enjoying their company with some delicious food, all delivered in the UK!
The meals come with homemade bread and flavoured butter, starter, main course, dessert and petit fours. The menus change monthly and you are welcome to mix and match the vegetarian or meat options – just specify in the dietary requirements at checkout whether you would like the meat or vegetarian starter and main course, all options are delivered throughout the UK.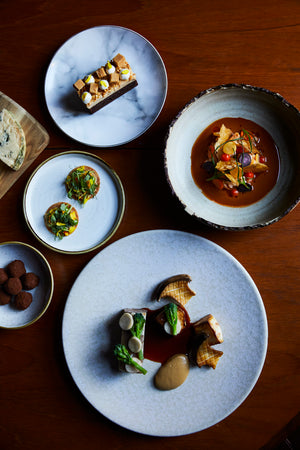 Important details
The meals are designed to be heated, plated and enjoyed one course at a time. No course takes longer than 15 minutes to put together.
Each person is £55 – please order one menu per person.
Delivery is on Fridays or Saturdays can be eaten for up to 3 days.
Order by 9pm on Tuesdays for delivery that week.
Option to add a cheese course and wine to any order before checkout.
We can cater to any dietary requirements, if your requirements are complex please drop an email to andy@indulgedining.co.uk however if it is a simple allergy or intolerance please just specify in the dietary requirements box at checkout