bbq meal-kit
Looking to up your BBQ game this summer…? Let's face it, supermarket burgers and burnt sausages are normally the disappointing result of us Brits hosting a BBQ. So let Indulge take over your grill this summer and enjoy some proper gourmet flame cooked food!
I bought a gourmet bbq box from Indulge and it was amazing! The food was expertly prepared and there were easy to follow instructions on how to cook and serve (although my piping skills leave much to be desired). The paired beer suggestion also worked great. All round recommend.
Indulge take away the burnt sausage anxiety this summer with our gourmet BBQ box – perfect for impressing your foodie friends and family. No need to spend hours marinating meats and prepping sides – just fire up the BBQ and follow the simple, included instructions to swap sad sausages for a perfectly cooked steak.
Sundried tomato focaccia with an elderflower & lemon thyme dipping oil
Smokey apple & soy glazed pork skewers
Wild garlic & sweetcorn boneless chicken wings
500g Rib-eye steak drizzled with salsa verde
BLTs – grilled baby gem lettuce covered in BBQ tomato relish and smoked bacon crumb
Traditional homemade coleslaw (because it isn't a BBQ without a coleslaw!)
With a couple of optional add ons…
Wash it all down with some beers from Offset Brewery – beers that have been specially brewed to match fire cooked food
For the little people in your life – gourmet hot dogs with homemade apple BBQ sauce.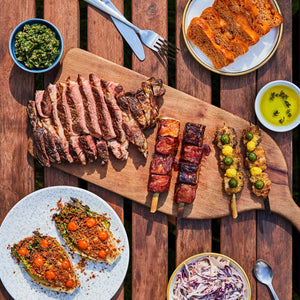 IMPORTANT DETAILS
Dietaries - Contains egg, mustard, soy, cereals containing gluten & sulphur dioxide
Delivery can be made on either Friday or Saturday.
We also give you instructions on how to cook everything in the oven, because let's face it – the weather is never guaranteed and you still want to eat your food even if it is a washout!