Beef wellington meal-kit
Up your fine dining game with our beef wellingtons
The beef is of such good quality, it just melts in your mouth and the instructions are so easy to follow you can cook to the doneness you prefer. Like all their meal kits, I would 100% recommend the Beef Wellington meal kit.
One of the newest additions to the Indulge family, the wellington meal-kit is the ideal comfort food for your cosy night in.
The beef wellington handmade by chef Andy combines tender beef fillet, a rich and flavoursome mushroom duxelle and a perfectly buttery puff pastry. The wellington is paired with smoked potato mash and wild mushrooms. If you haven't tried smoked potato then you are in for a treat…
Finish your wellington meal-kit with a decadent chocolate mousse topped with fresh raspberries, hazelnut puree, crystalised chocolate and hazelnuts. You'll be glad you haven't left the house and you can curl up on the sofa full of delicious food!
The step-by-step instructions are super simple, the wellington comes ready made so you just need to follow the instructions to egg wash it and then cook it to your desired level – don't worry we tell you how to achieve the desired level of cooked – we recommend medium rare but we've got your back if you like it less or more than that.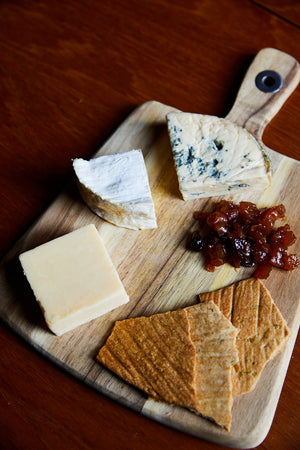 Important info
The Wellington itself comes raw and we provide instruction how to eggwash and cook
For absolute perfection and consistency we would advise you add a meat probe to your order at checkout however it is still achievable to cook it without
Delivery is on Fridays or Saturdays can be eaten for up to 3 days.
Sides come cooked you just need to reheat them.